Detach with love
The story of a son's spiralling descent into alcohol addiction and the effects on one ordinary family and their fight to save him.
What has changed?
A decade on - have things changed in the treatment of alcohol addiction?
They say that the start of a new year is a good time to reflect and as we enter 2017 we look back on the 11 years since our son – a chronic alcoholic - was found dead. His condition was as a direct consequence of binge drinking at university.
We thought it might be a useful test, to see if anything has changed in the way universities and Society approached alcoholism in young people. We want to know if universities, social services and the medical profession are any better equipped to help people like our son now. Please read more on our findings.
Since the death of her son, Margaret has written this book giving a graphic insight into her family's experience of alcoholism in the hope that it will help others in a similar predicament and perhaps will kick start and underline the need for more help by the authorities in this area. She also hopes her book will give a different and more understanding perspective of the alcoholic.
"It took just nine short years for David's life to escalate from that of a happy carefree undergraduate, where a drink was an enjoyable part of student life, to someone whose actions were often unrecognisable as those of the son we knew and loved.

How could alcohol be such a powerful agent? How could it have controlled and persuaded him, even though he knew death would ultimately be its tragic consequence? It all seems so crazy and wasteful
.
Detach with Love could be described as a tragic true life story told by his mother and written using testimony taken from the diaries he wrote whilst in rehab.
But it goes further than that. This is the story of a family fighting for their son's life, against those in society who should have been there to help vulnerable people like David - social services, the medical profession and the local authorities. They all failed him in the end.
This book not only challenges a rethink on the accepted wisdom of non- intervention, but also society's view of addicts, not dropouts, but seeing them as people who are ill, perhaps someone's child, needing help and understanding.
In the last month of David's life he became a missing person, walking out of his home and out of the lives of all who loved him.
Biography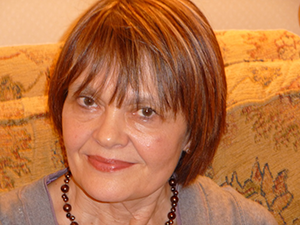 Margaret Searle originally trained as a home economist and food chemist working for major food companies, where she successfully developed new recipes for production. She left work to have her first child, loving motherhood so much that she decided to be a home-maker rather than a working mum.
Whilst expecting her fourth child she began studying for her degree, majoring on English literature and the social study and history of Society, gaining her B.A. in 1992. She has been director of a property management company and run a successful genealogical research service.
She and her husband Keith live in East Sussex.